ArtBrick have an impressive portfolio of finishes for External Wall Insulation, to improve the appearance of virtually all types of construction, whether new build, refurbishment, or non-traditional properties.
When properties are built or refurbished amongst existing properties, they need them to blend seamlessly into their surroundings, which sometimes can be restricted, if available renders don't quite match the existing finishes. In response to this one of our licenced installers, Westdale Services, have used ArtBrick to take Alumasc's brick effect render to the next level.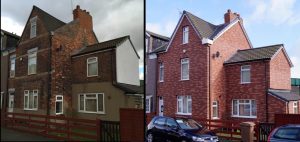 Westdale Services Limited helped develop ArtBrick –  an advanced finish that can be textured, tinted and coloured to match into any surrounding brick, allowing a limitless aesthetic choice.
Development of the new ArtBrick system began in order to increase the options available to both new build and refurbishment projects that might otherwise have encountered planning issues.
With more properties being built on small plots of land in between existing properties, the need to blend with surroundings have become more widespread, and installers felt there was a requirement for a finish that offered increased depth of colour and additional textures.
ArtBrick can provide any colour and texture, with long term durability and protection from efflorescence. The result is a cost effective brick façade solution that can be installed without the requirement for pre-made brick slips or corner bricks.
It is suitable for installation onto any EQI system such as Alumasc's Ventilated Stystem (AVS).  When used with AVS, ArtBrick provides a decorative rainscreen solution for timber frame and steel frame construction, offering specifiers, homeowners and housebuilders the widest and most cost effective choice of external wall solutions on the market.